Are Wedges Really Back?
They're not your high school shoes.
It wasn't enough that low-rise denim and bucket hats had to make a comeback—now it appears the wedge is, too. If you're feeling confused about it—all of it—you're not alone. I suppose there are some for whom the Y2K-era favorite never really went away, but when I saw brands like Maryam Nassir Zadeh, Intentionally Blank, and Staud release their own takes on the wedge for spring, I knew it had become A Thing. Here are three reasons I'm maybe OK with it.
1) They've Grown Up
Unlike the cork wedges reminiscent of high school graduations, the current iterations are decidedly modern. Wide, see-through straps, croc embossed leather, and architectural silhouettes make the wedge feel high-fashion in a way its predecessors never did—at least, not to the Millennial who associates those with Paris Hilton and underage drinking. Even demi versions, like the one Everlane released last week, provide a sleekness and ease that I never saw in styles past (even if they do remind me of ones my mom's worn for years).
2) They're Easy
I vaguely remember telling someone in college that the wedges on my feet were the easiest "heels" to wear because they were comfortable and I never lost my balance. This tells me I was pretty clumsy but also wedges served a practical purpose. While block heels have been a thing for a moment, the skinny kitten heels of the nineties are (surprise!) reappearing, and I'd much prefer the aforementioned demi wedge.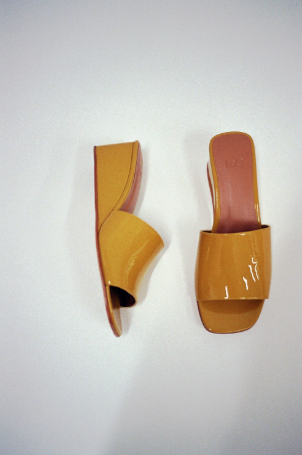 3) Let's Face It: They're Kinda Fun
The candy colors on this season's styles are like sartorial serotonin. Just looking at these Starburst-esque wedges with jellie-inspired straps (more nostalgia!) is giving me a sugar craving. It's like my childhood and adolescence all in one (surprisingly) pretty package.